Best Get well soon Quotes, Cards, Wishes & Images
Life is not always a cakewalk. The journey is filled with ups & downs, and only a person with a positive attitude & caring friends is going to complete it with a smile. Tough times can come in anyone's life in the form of emotional and physical problems. What matters the most in such times is the support of family & well-wishers. Even a simple message from our loved ones can give us the strength to recover from the greatest hardships. So, from now on, if ever the people around you encounter any health issue, make sure to send them at least one of these Inspirational Get well soon Quotes, Cards, or Wishes. What might seems just a little gesture on your part has the ability to give motivation & moral support to someone who needs it the most!
Meaning of Get well soon
The meaning of Get well soon is something that relies on the emotions of the conveyer. Get well soon means that you hope for a speedy recovery of the person you love. You are sending him positive energy through your wishes & messages with a lot of heartfelt love & care.
Sending a Get well soon Card to someone tells a person that no matter what the situation is, you are sanding by the side of them. It entrusts a person in bad health that someone will take care of them even in the worst of circumstances.
Overall it's the intention & positivity of the sender that someone receives in the form of Inspirational Get well soon Quotes, Cards, Wishes & Images. You should know that the tiniest of good emotions is enough to help people better about themselves & indirectly helps them to recover fast and better.
Get well soon alternatives
Here are some other ways to say Get well soon :
I wish you a speedy recovery.
I pray you return to the healthiest soon.
We are sending positive, healthy vibes your way.
I am sending a bit of extra prayer for your recovery.
Get better and get back to your fantastic self soon!
I am sending you a lot of hugs and love.
I wish you a fast recovery. I can't wait to see you back to your old self again.
I am just sending a little get-well sunshine your way because you are always a bright spot in my days.
Good health wishes messages
It isn't as bad as you sometimes think it is. It all works out. Don't worry. I say that to myself every morning. It all works out in the end. Put your trust in God, and move forward with faith and confidence in the future. The Lord will not forsake us. He will not forsake us. If we trust Him, if we will pray to Him, if we will live worthy of His blessings, He will hear our prayers.
A man is little more than his problems.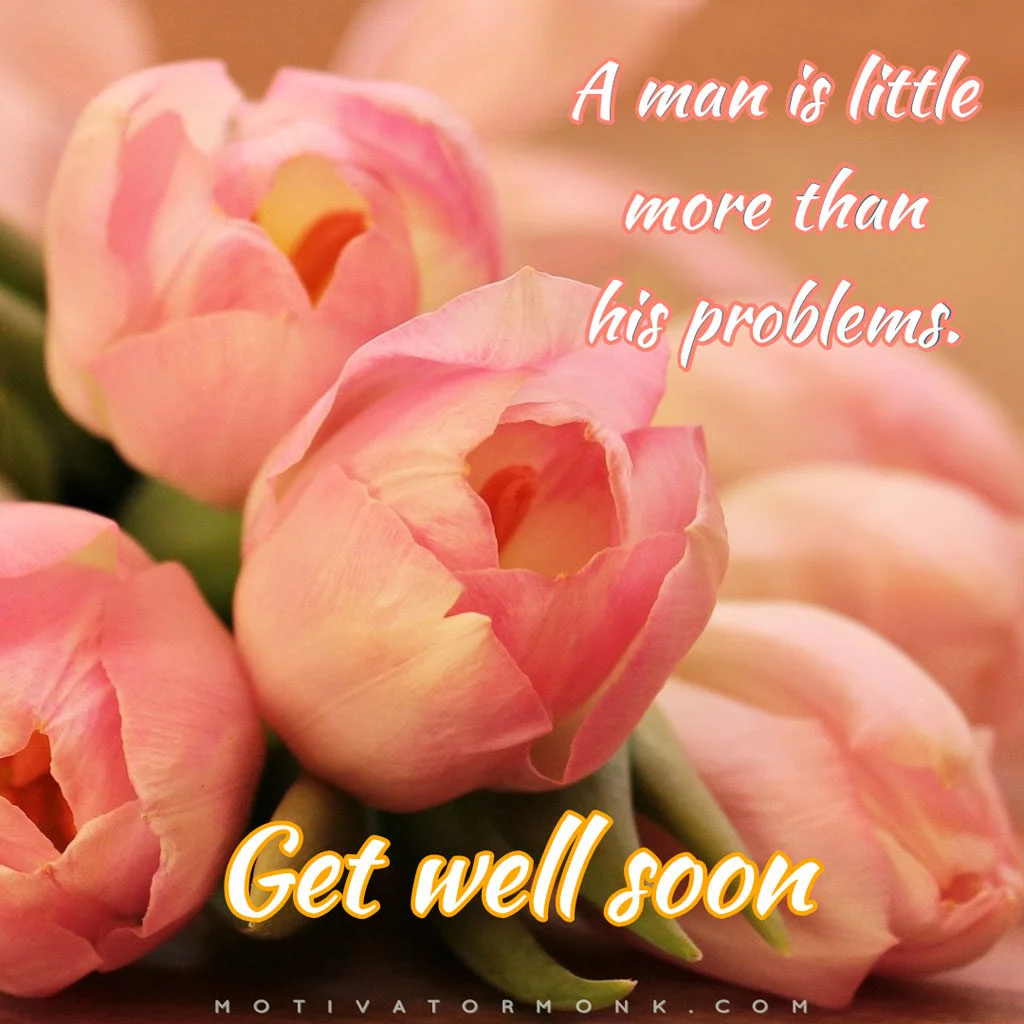 Pain believes itself to be the force that pushes everyone away. But God says that pain is the invitation that He could never throw away.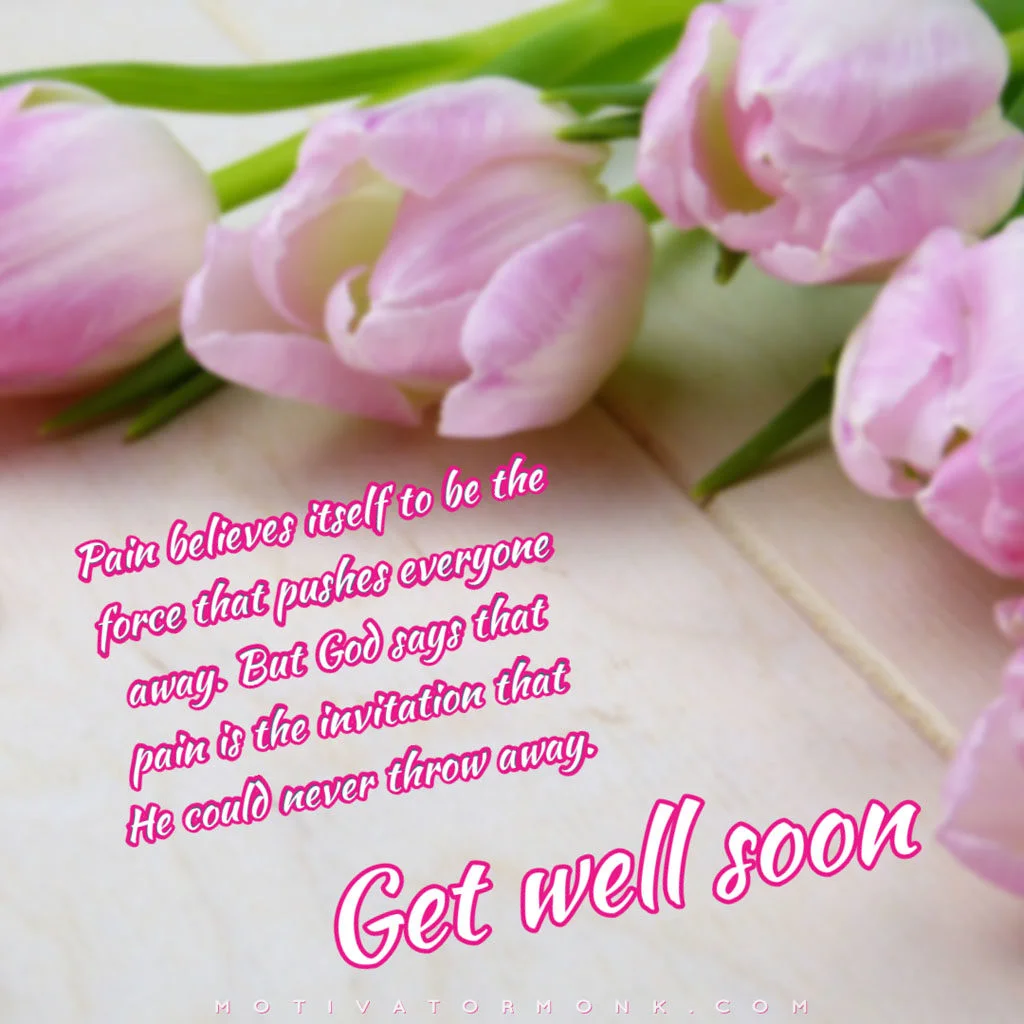 Sometimes you must give up on certain people, but it should be mandatory that you will never ever give up on yourself.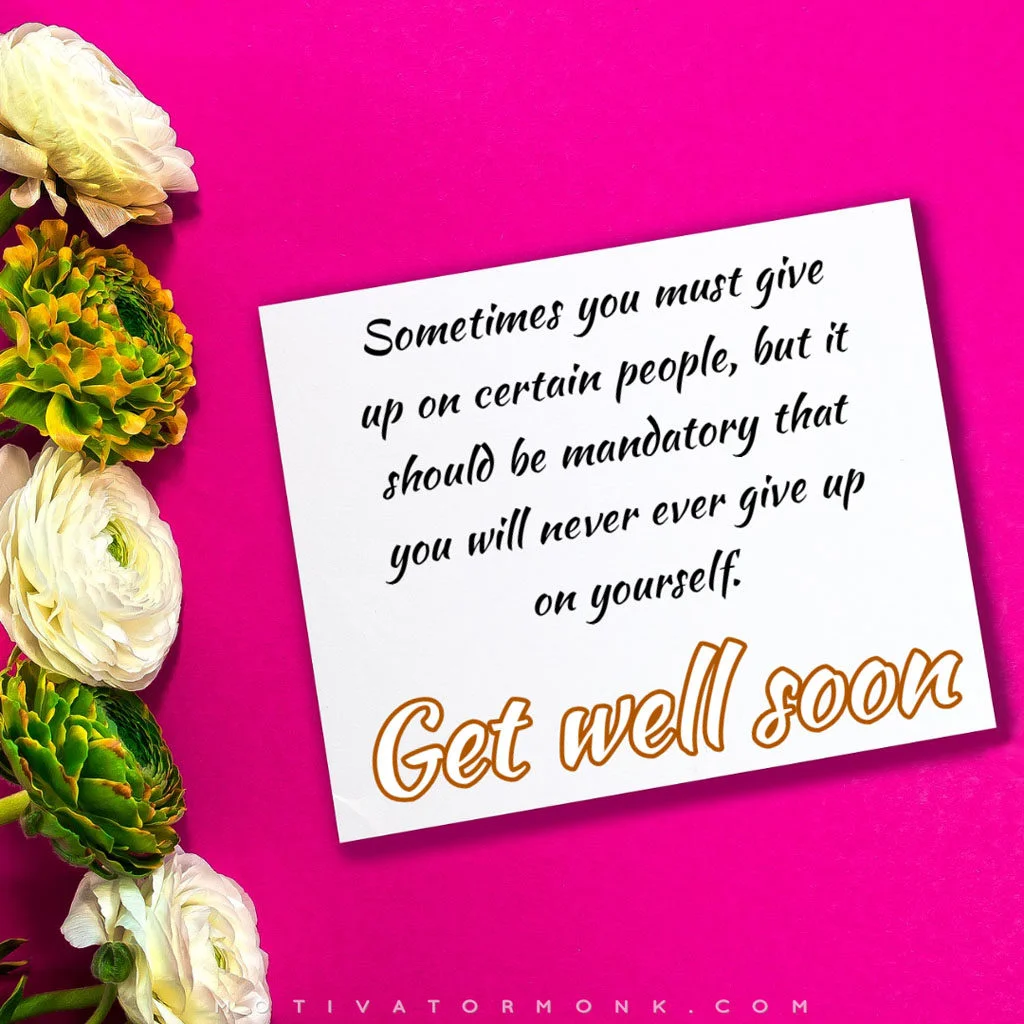 Get well soon card
Believe in yourself. You are braver than you think, more talented than you know, and capable of more than you imagine.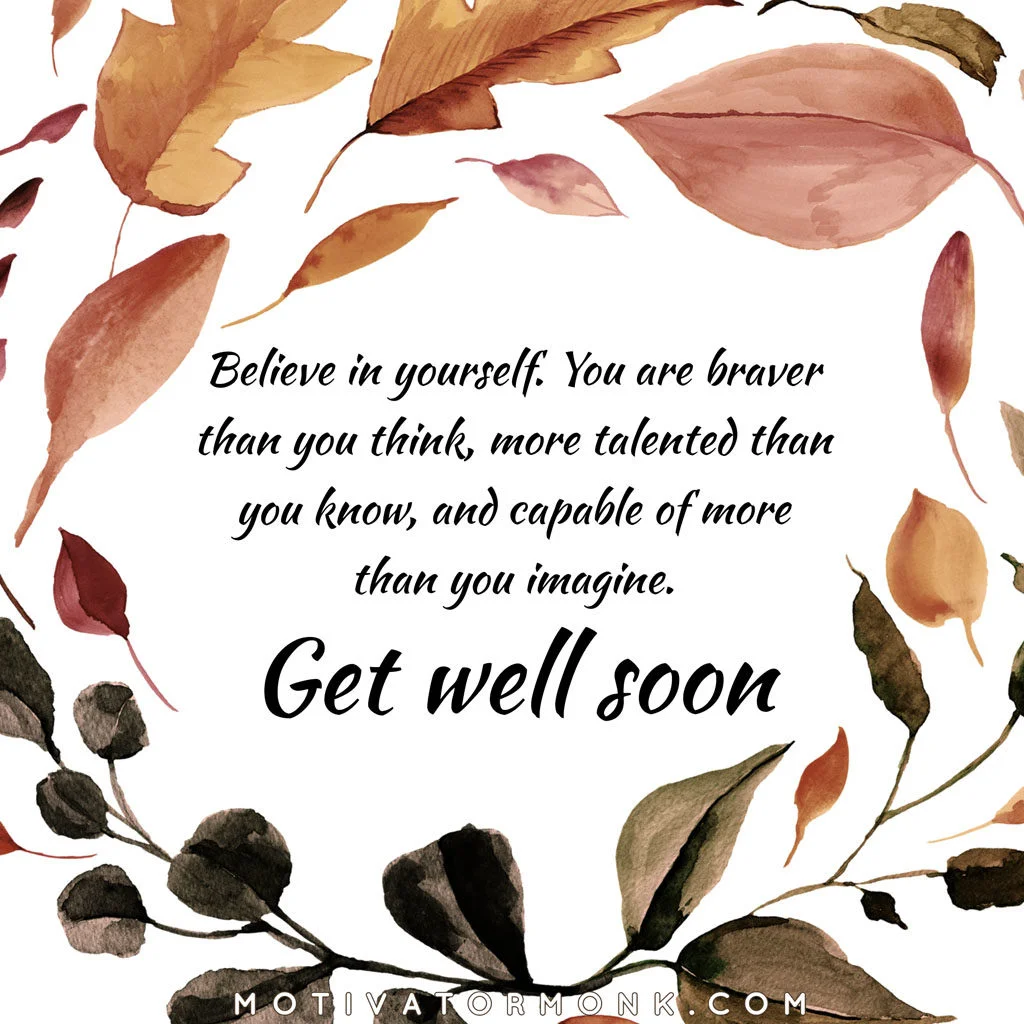 Hope is valuable. The tiniest fraction of hope can grow into the abundant mountain you need to keep going.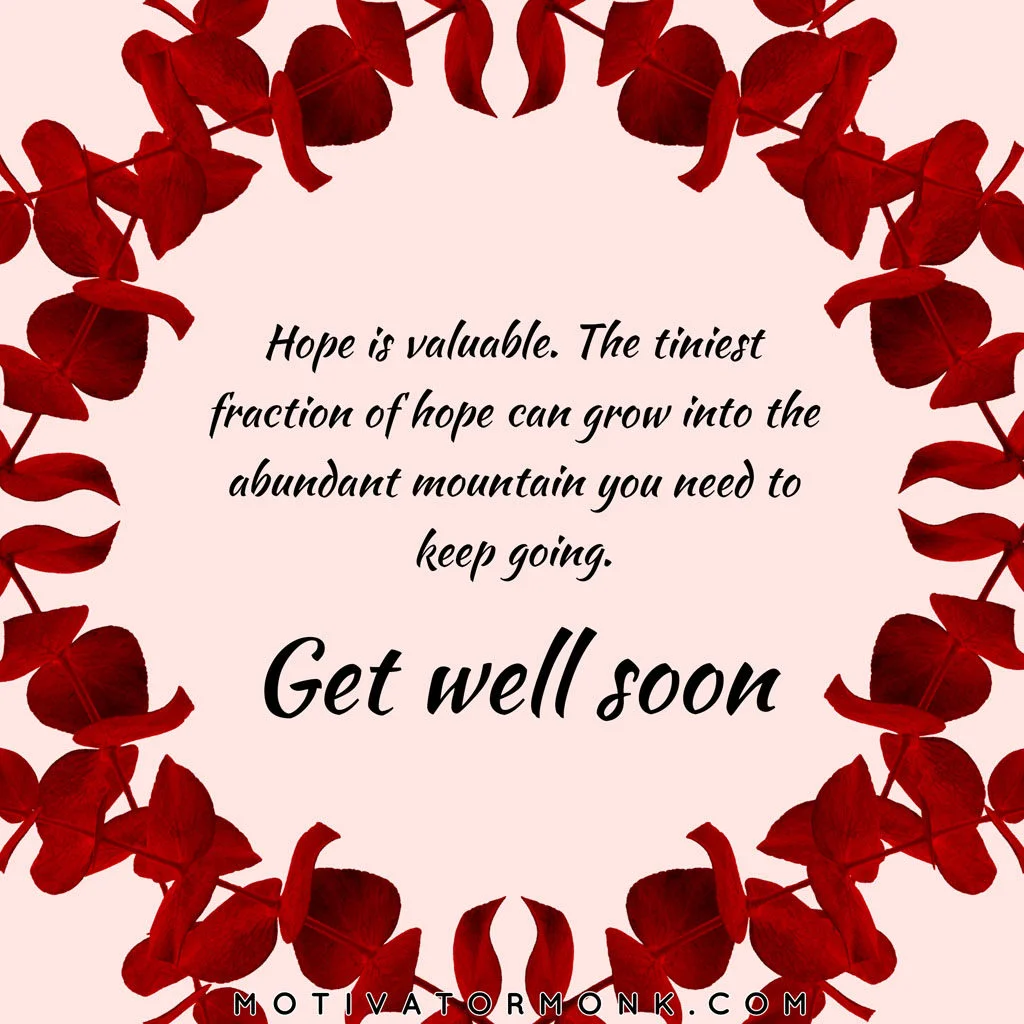 Times of great calamity and confusion have been productive for the greatest minds. The purest ore is produced from the hottest furnace. The brightest thunderbolt is elicited from the darkest storm.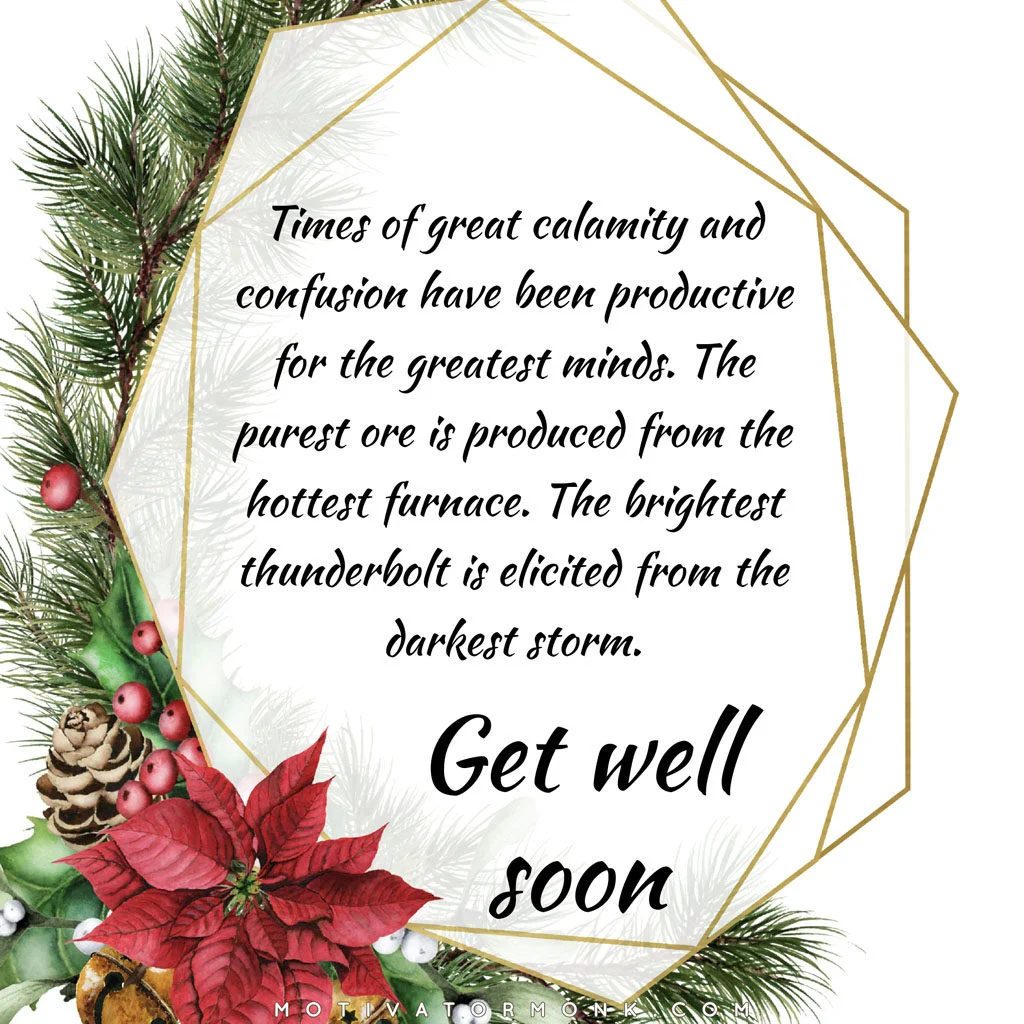 You have come a long way and have won many battles. Whenever you're faced with a difficult or challenging situation, you'll overcome it. Yes, you can.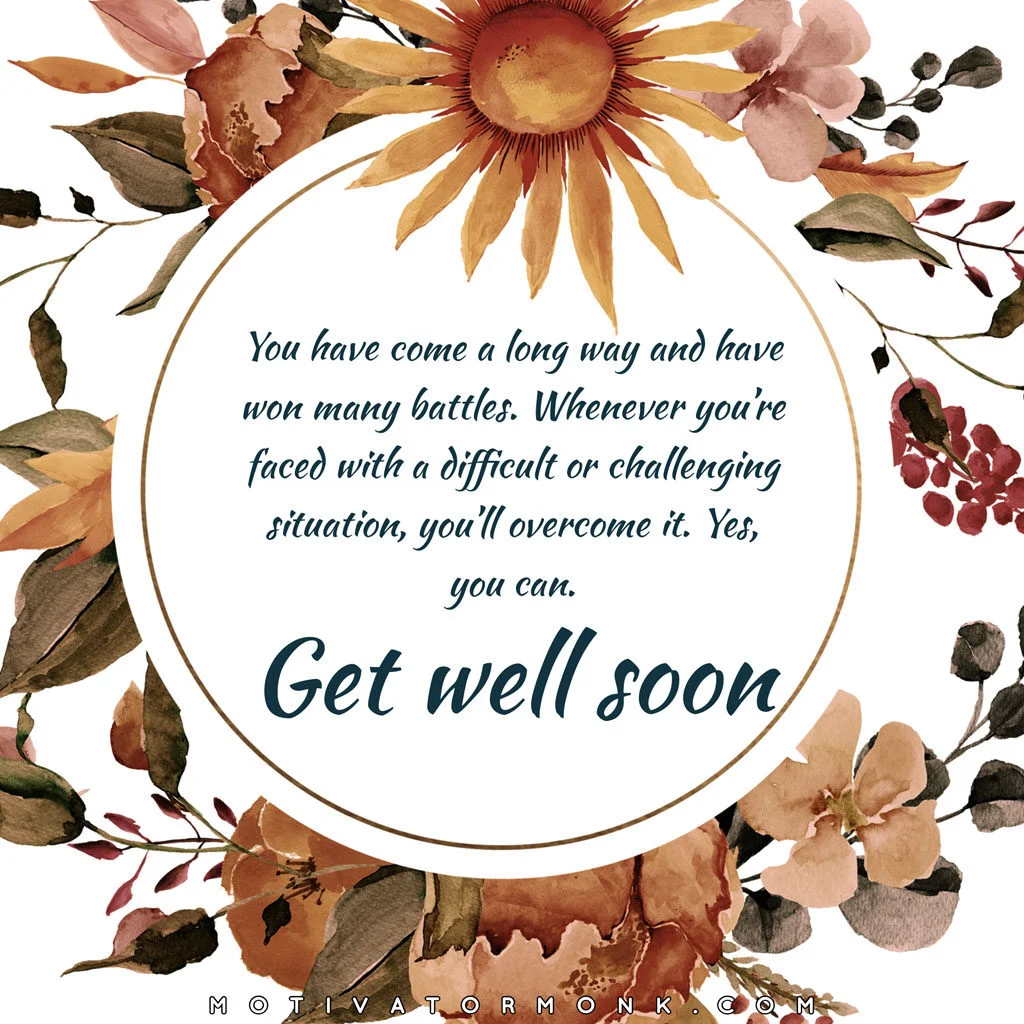 A crisis creates the opportunity to dip deep into the reservoirs of our very being, to rise to levels of confidence, strength, and resolve that otherwise we didn't think we possessed.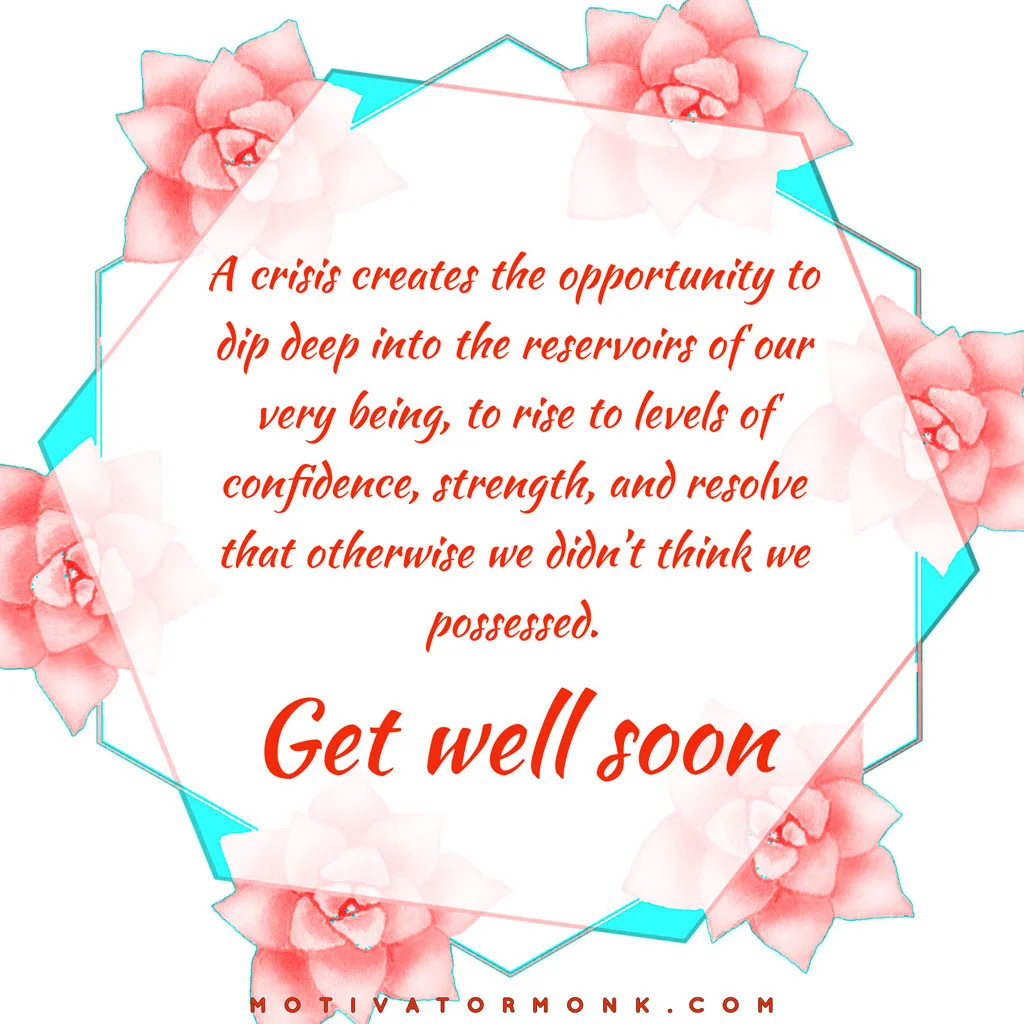 Formal get well soon message
You may encounter many defeats, but you must not be defeated. In fact, it may be necessary to meet the losses, so you can know who you are, what you can rise from, how you can still come out of it.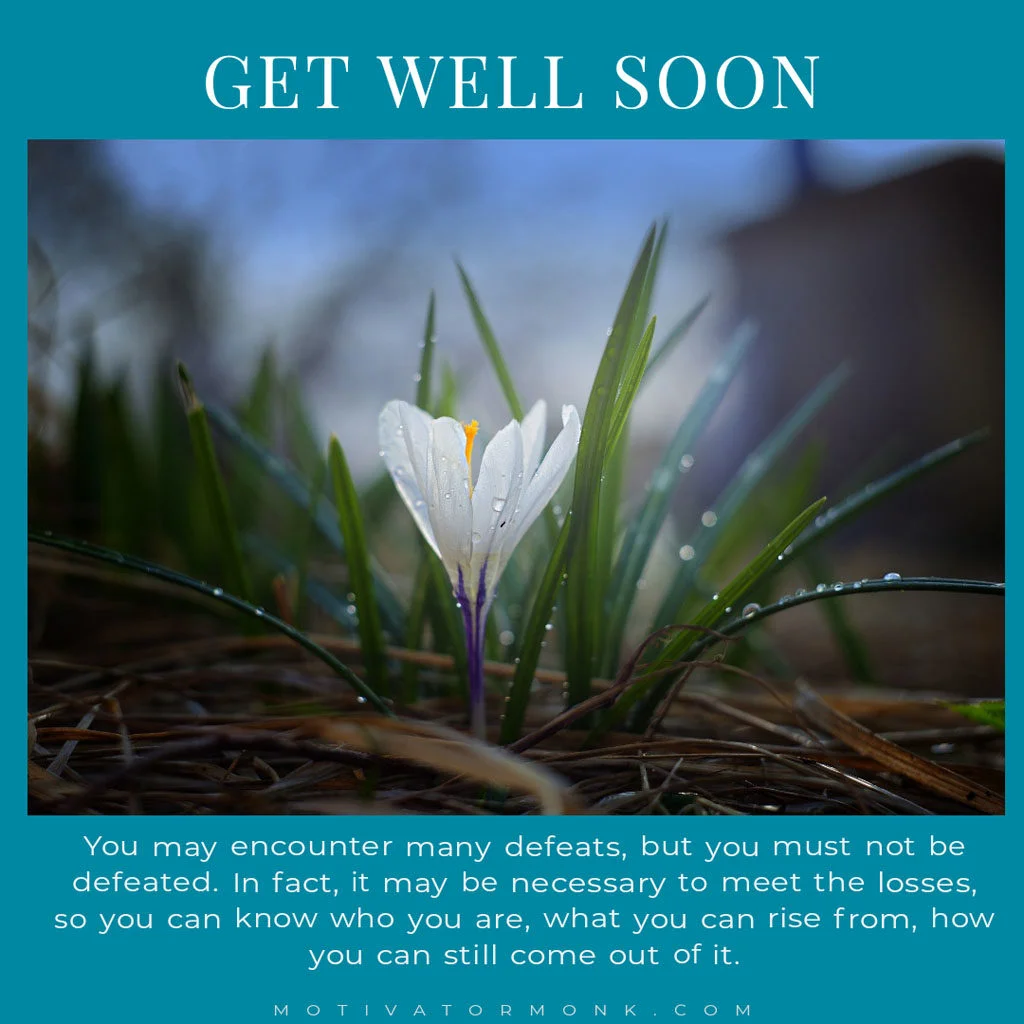 Stay strong, stay positive, and never give up.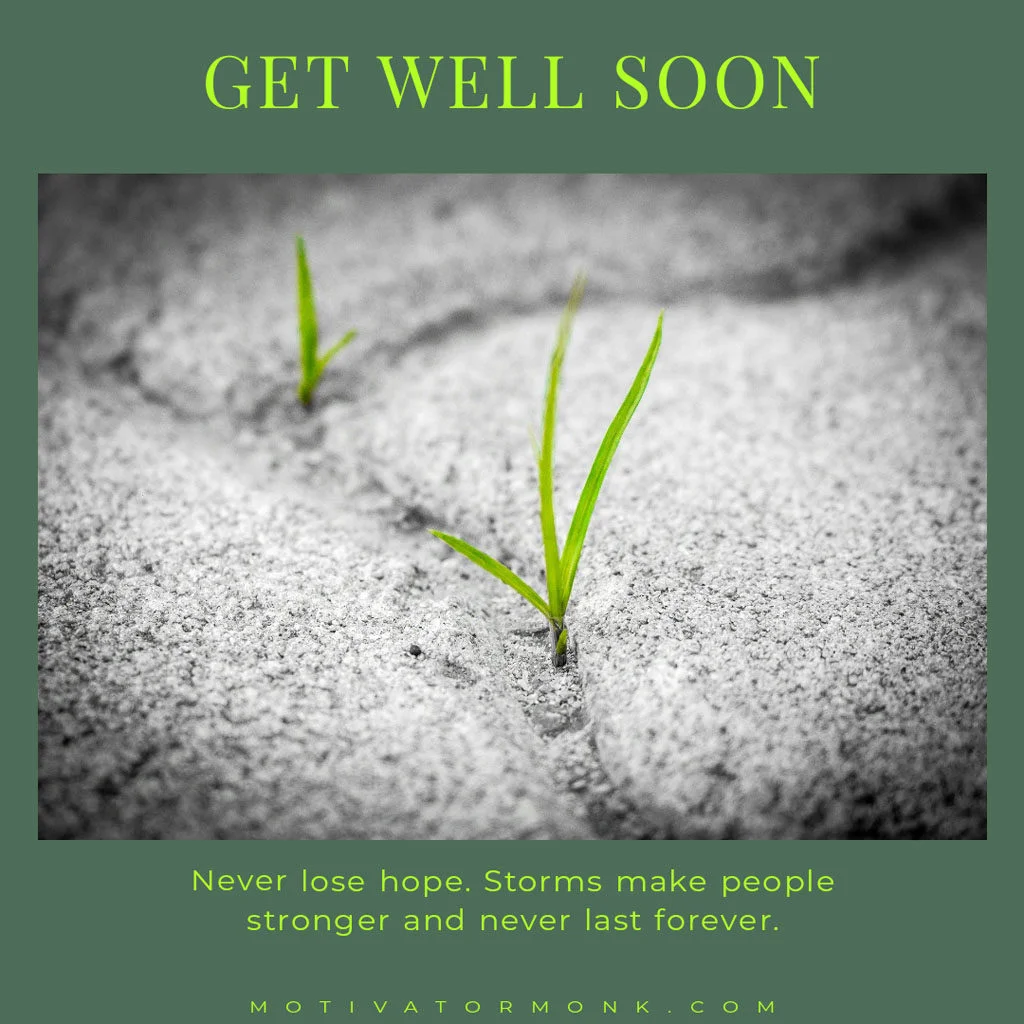 Never lose hope. Storms make people stronger and never last forever.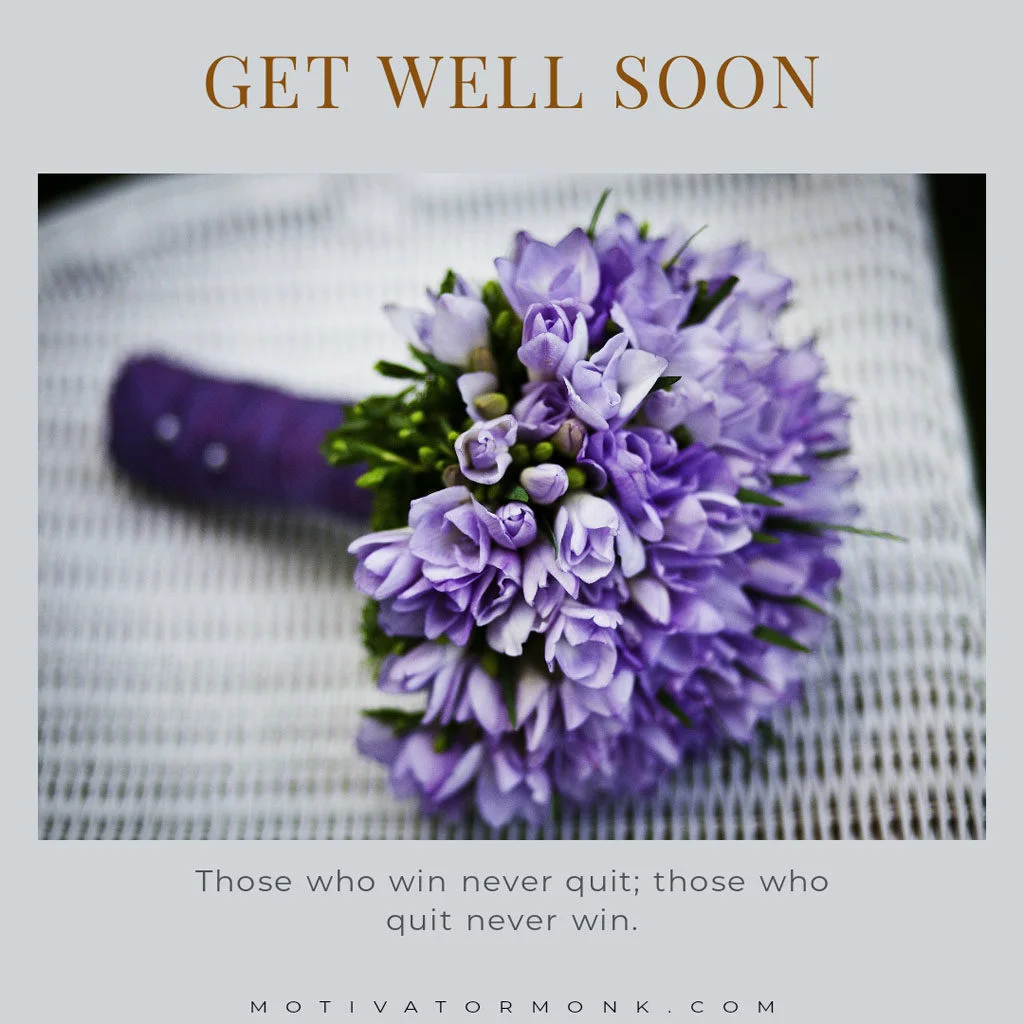 Great difficulties may be surmounted by patience and perseverance.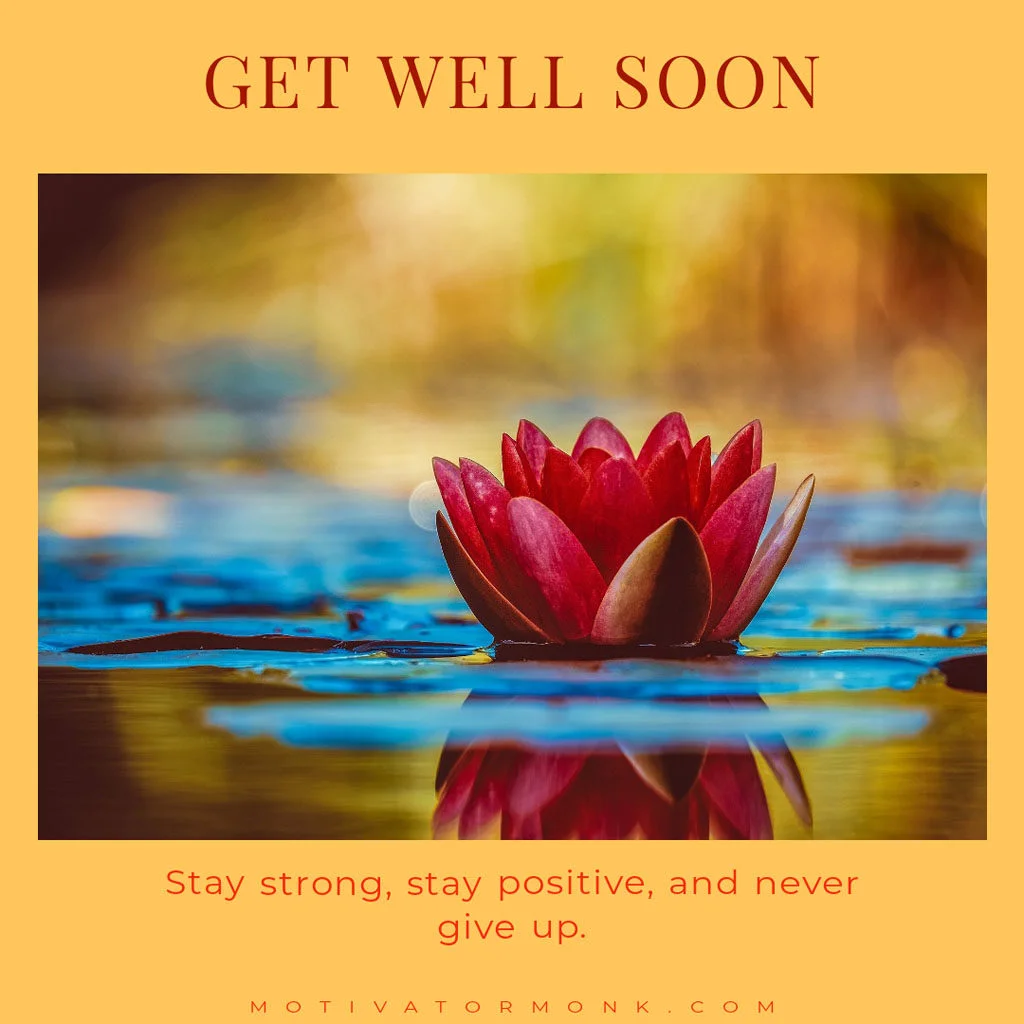 Those who win never quit; those who quit never win.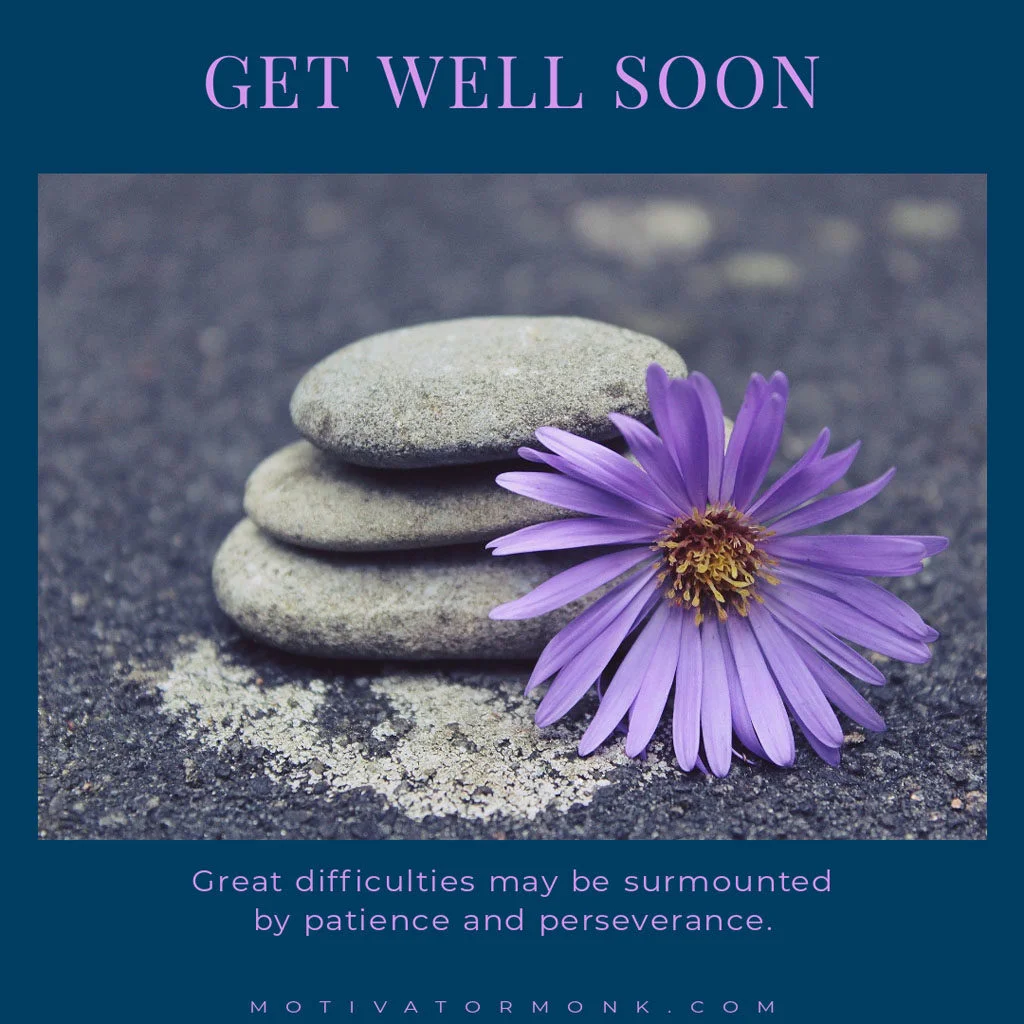 Wishing you a speedy recovery
When the going gets tough, put one foot in front of the other and keep going. Don't give up.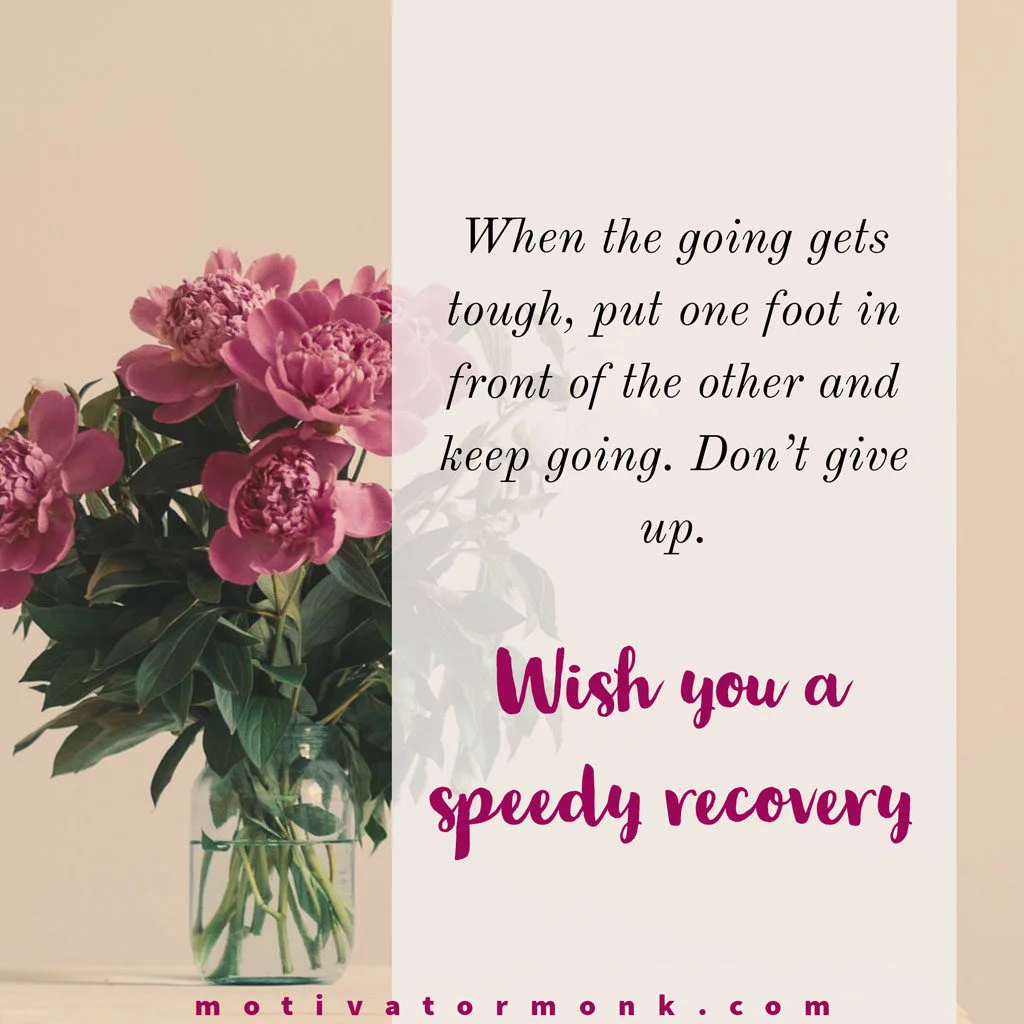 More smiling, less worrying. More compassion, less judgment. More blessed, less stressed. More love, less hate.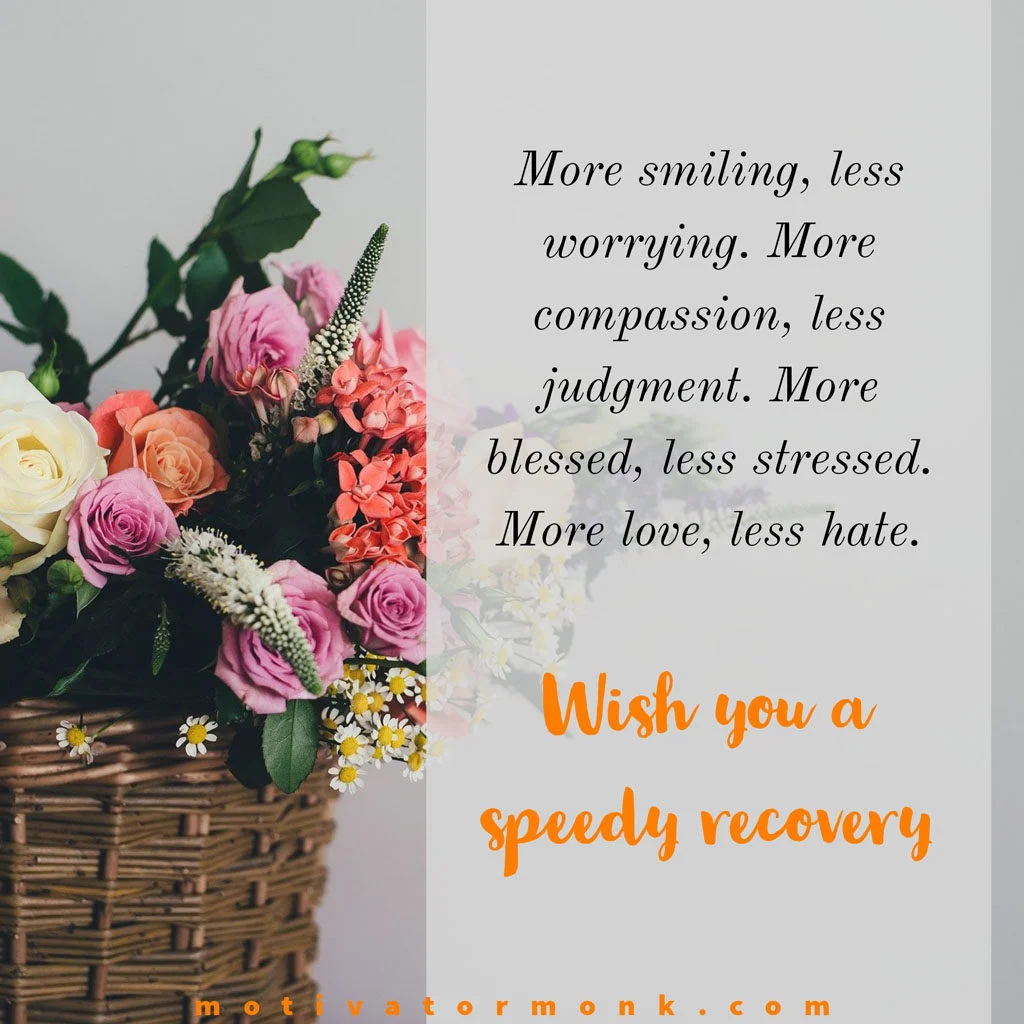 The more you feed your mind with positive thoughts, the more you can attract great things into your life.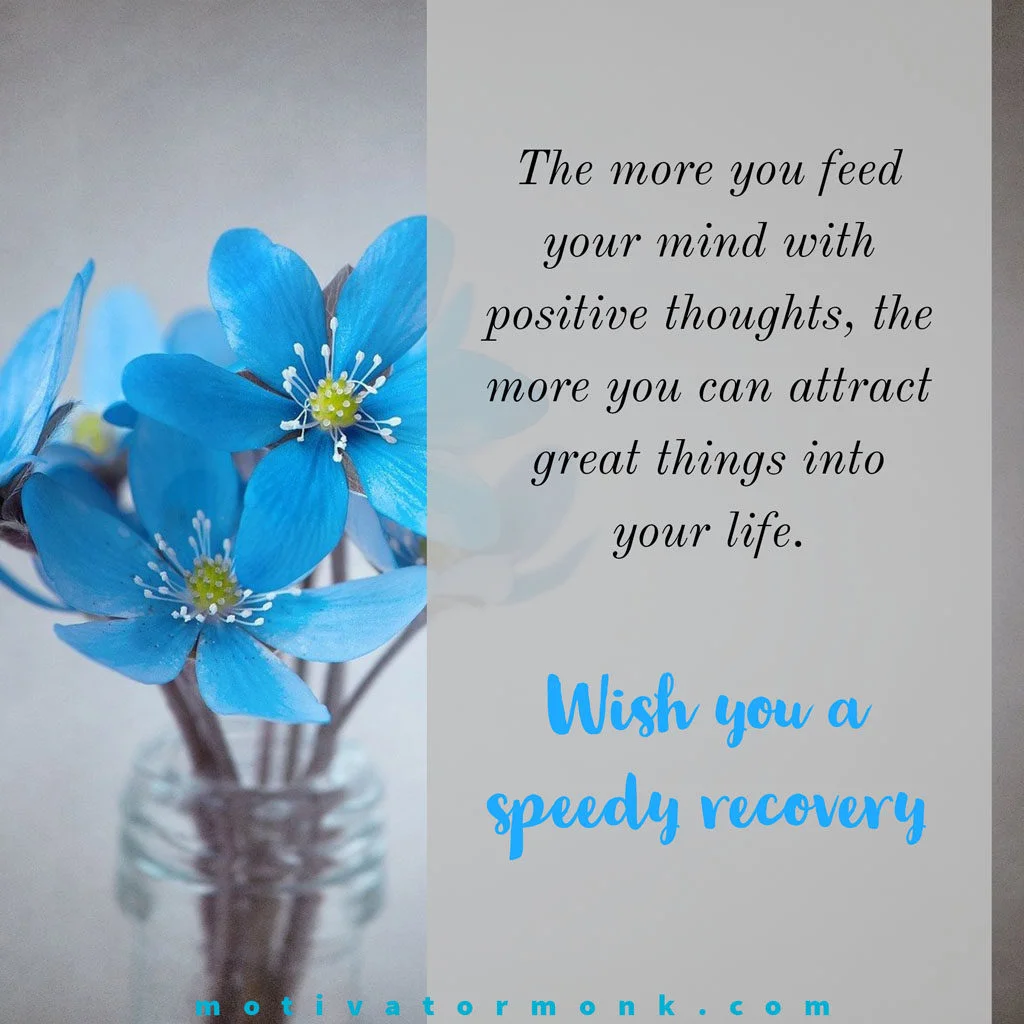 Start each day with a positive thought and a grateful heart.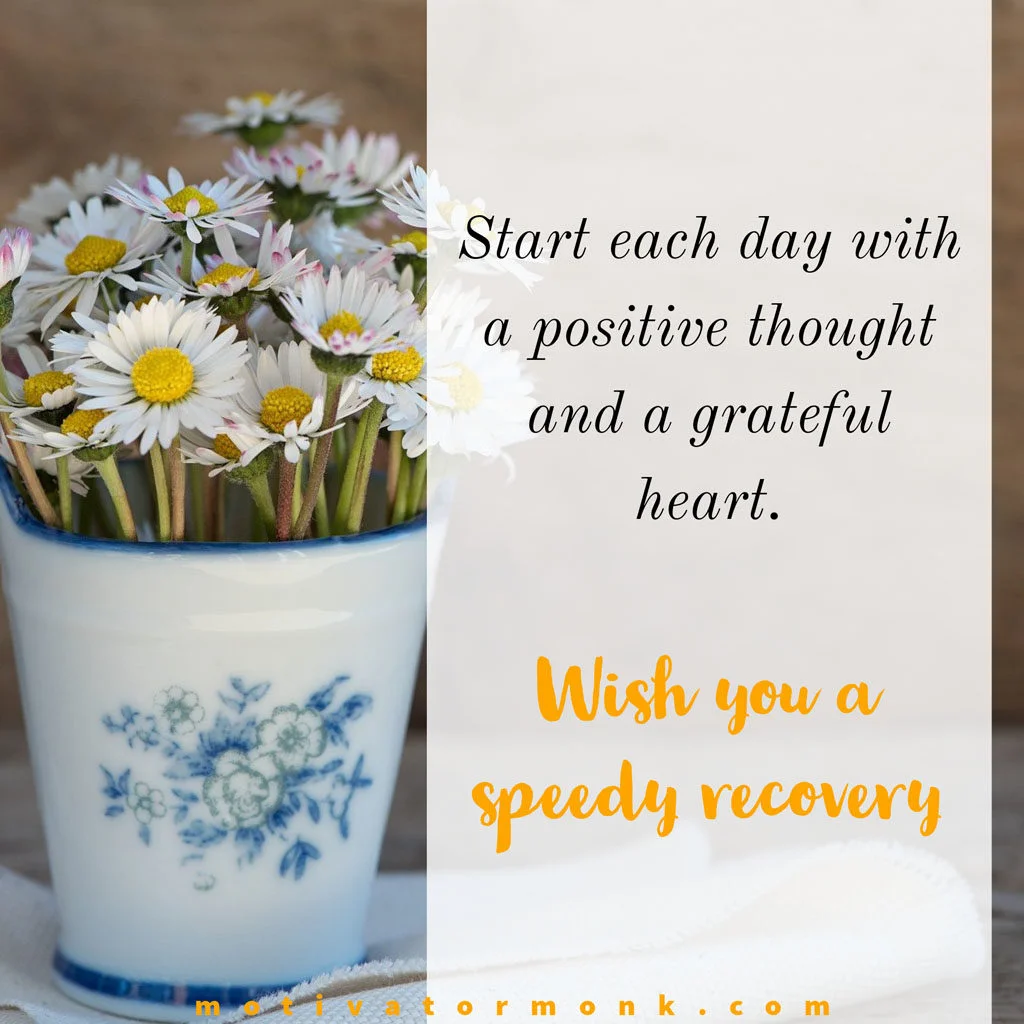 You are likely to fall when you stop paddling your bicycle. Such is life. As long as you don't give up, you will never end up failing!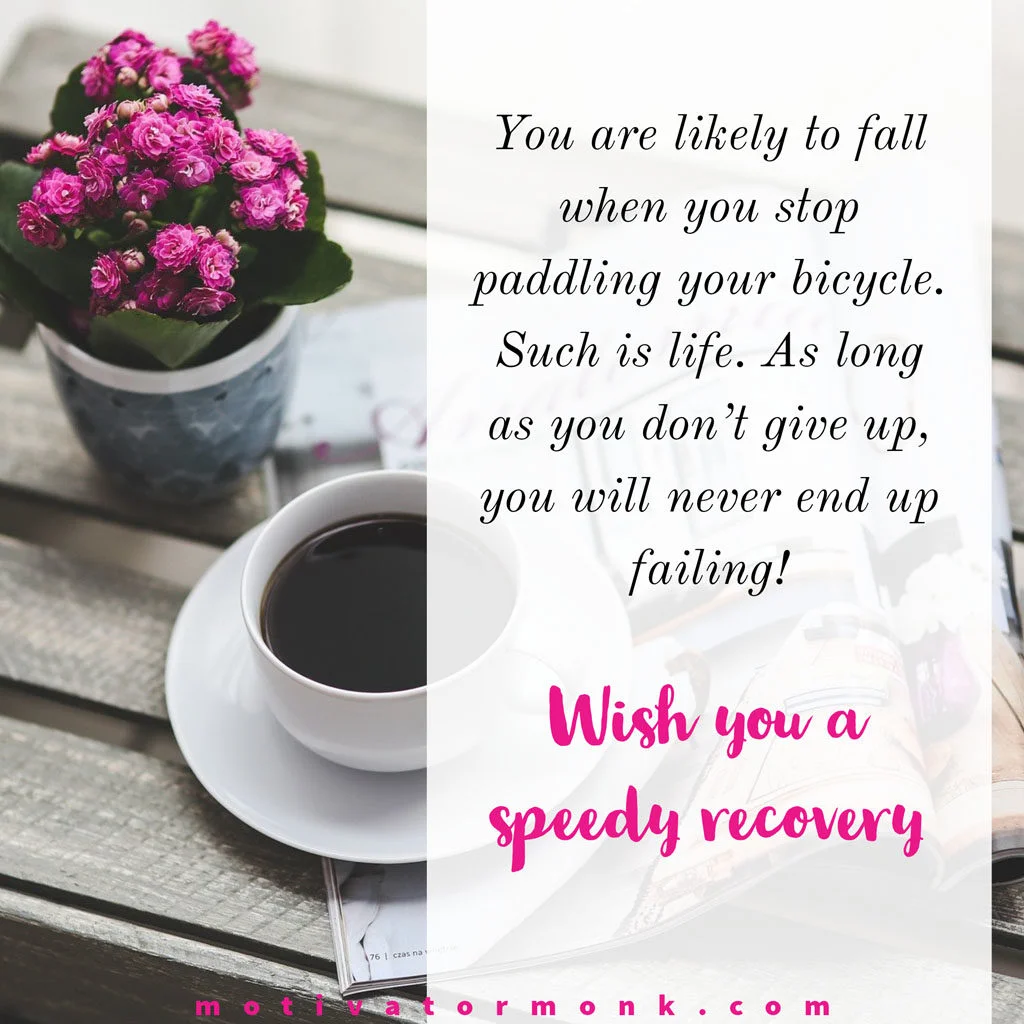 Get well soon messages for loved ones
You cannot control what happens to you, but you can control how you think about all the events. You always have a choice. You can choose to face them with a positive mental attitude.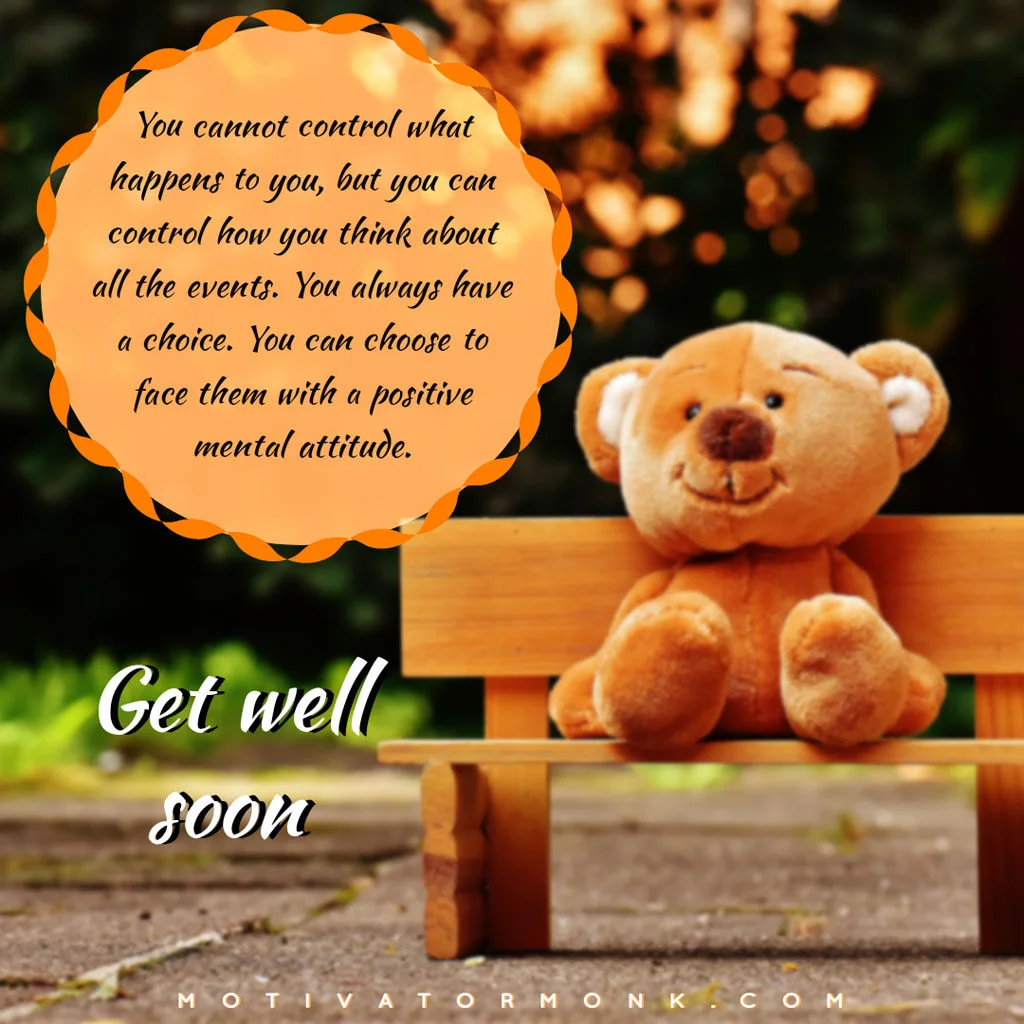 Letting go of toxic thoughts and people who bring negativity to your life are significant steps towards being happy.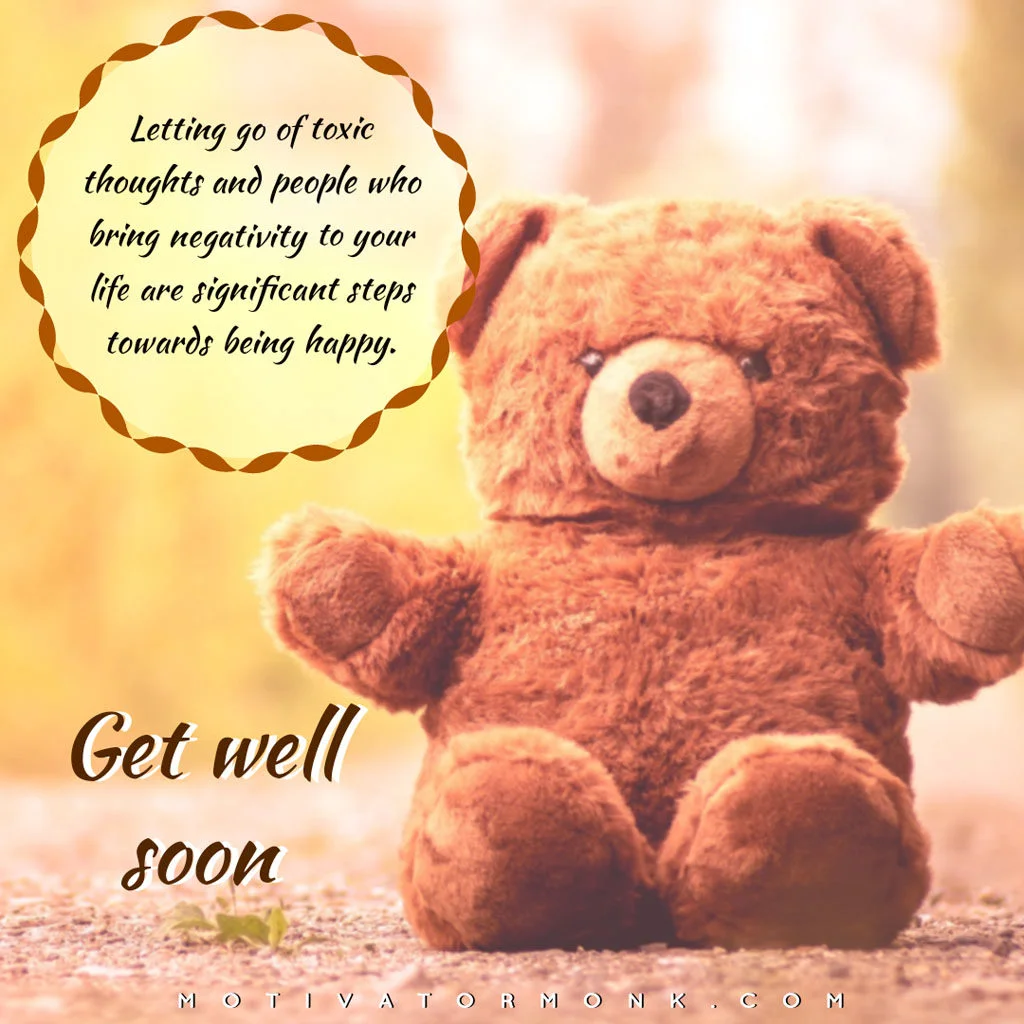 Don't you dare give up. You are a divine being. A unique expression of the eternal life force. A miracle child. Get up and fight.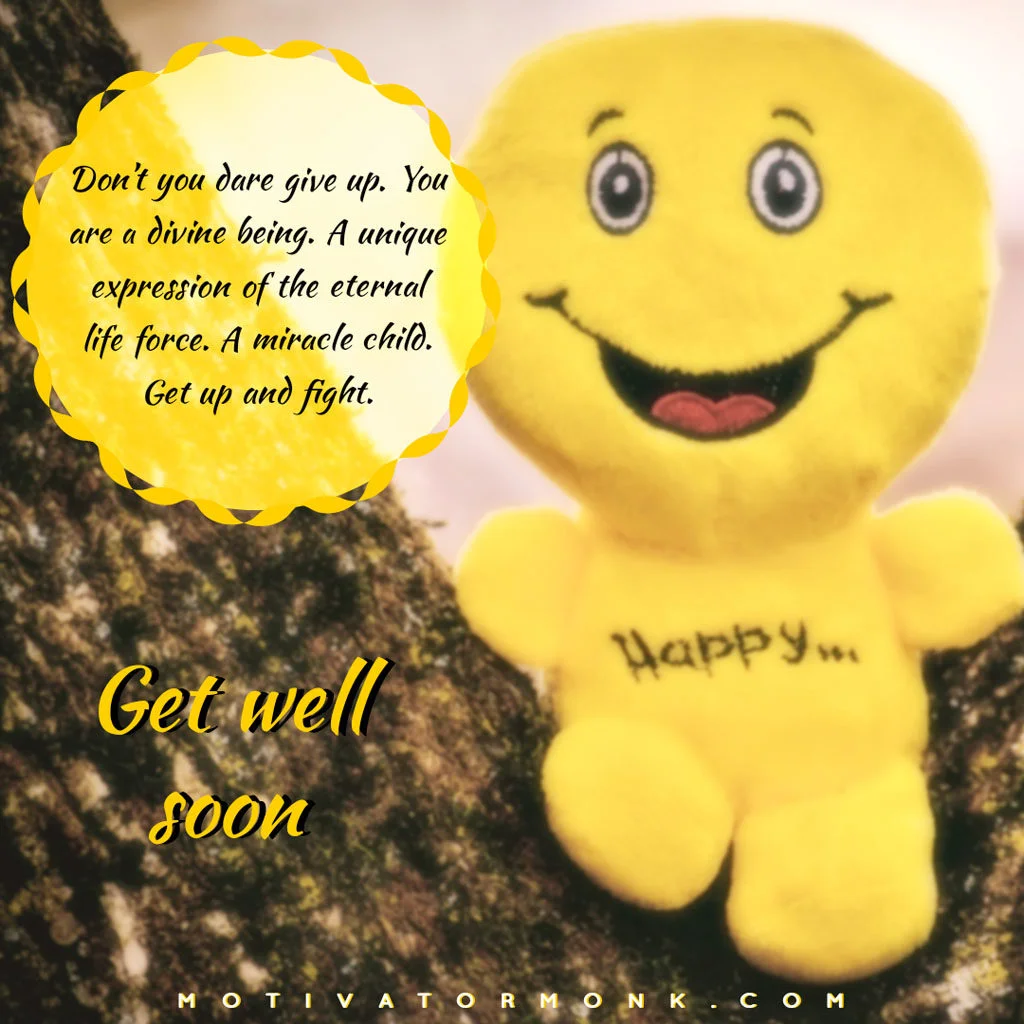 When life brings hardships beyond our understanding, it's not up to us to look for the silver lining. We are the silver lining. We become God's well-tuned instruments of peace, His gift to one another, each of us a miracle, according to His strange and wonderful plan.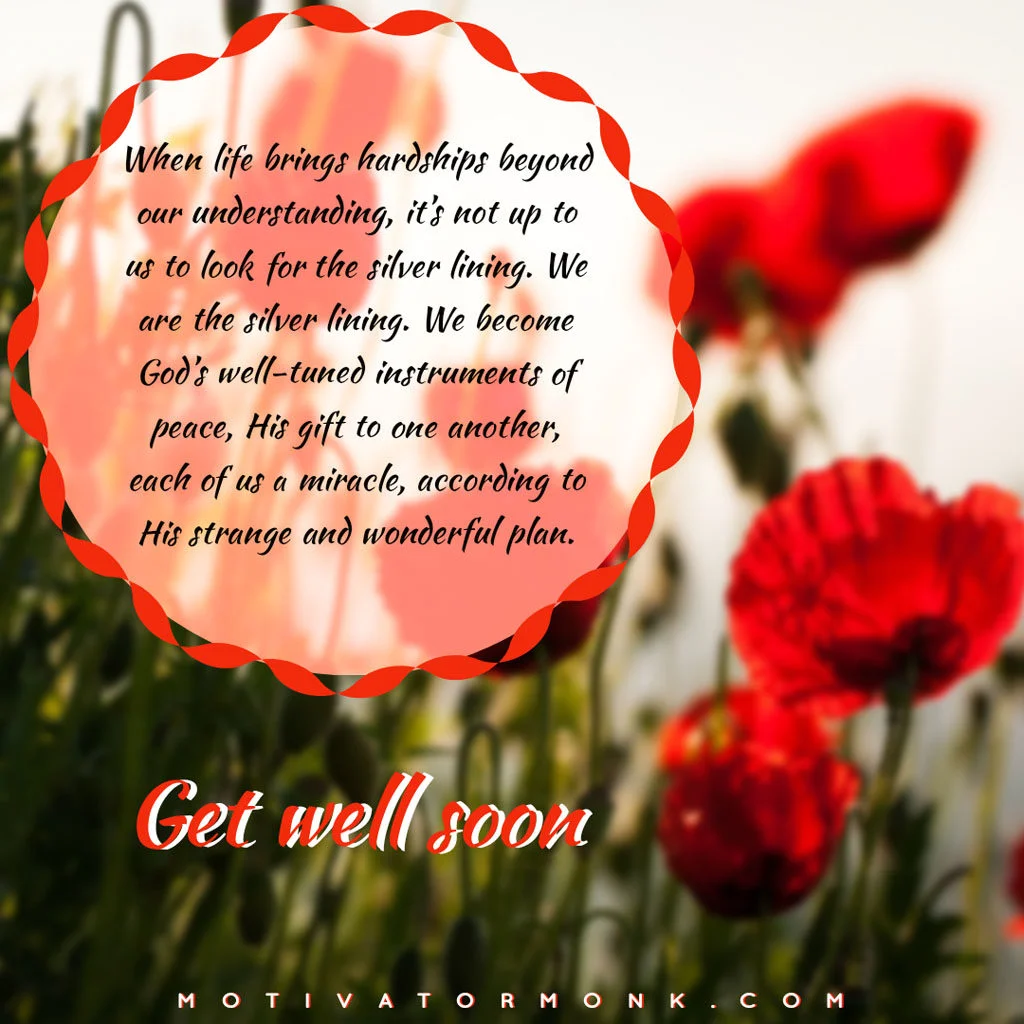 No matter how bad things get in life, no matter how many times things change, hang onto your ability to dream. Those dreams may well take you further than you could have ever believed.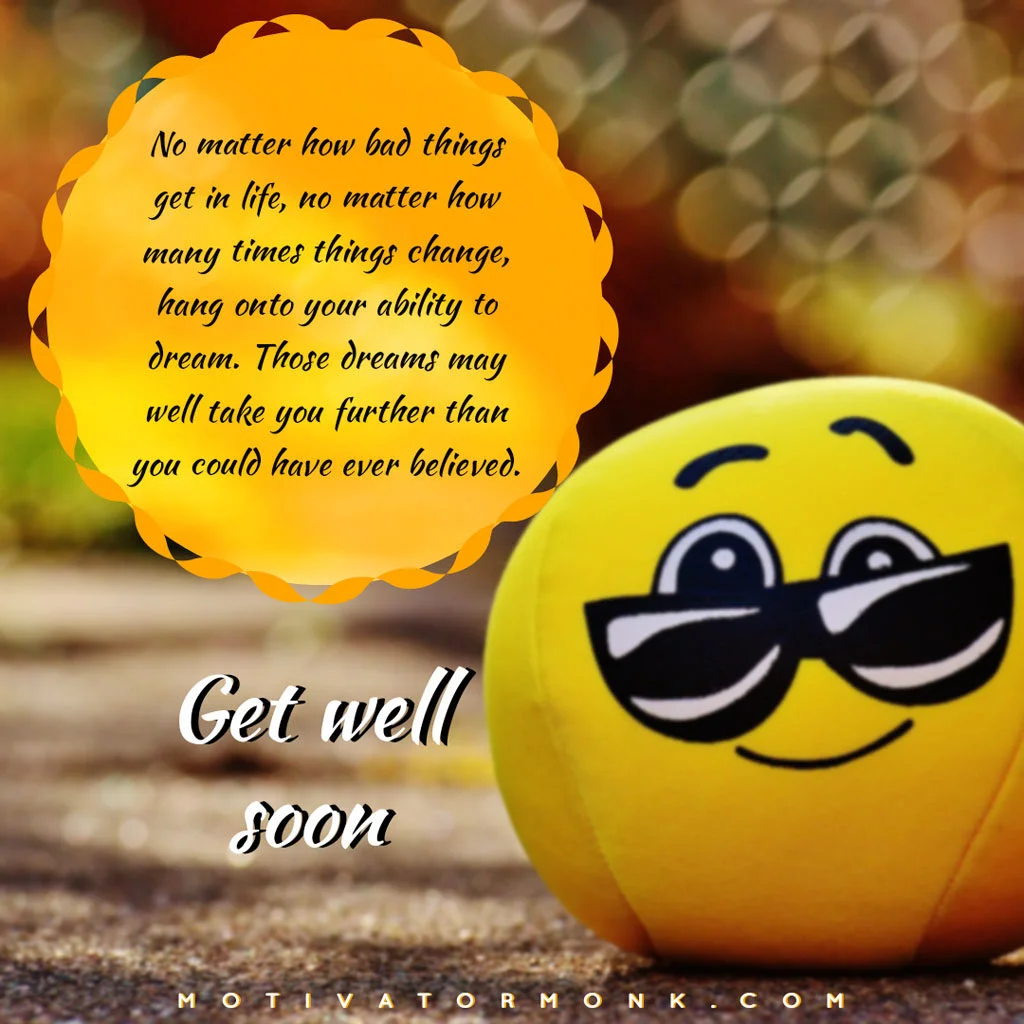 Inspirational get well messages & wishes
Happiness is not the absence of problems. It's the ability to deal with them.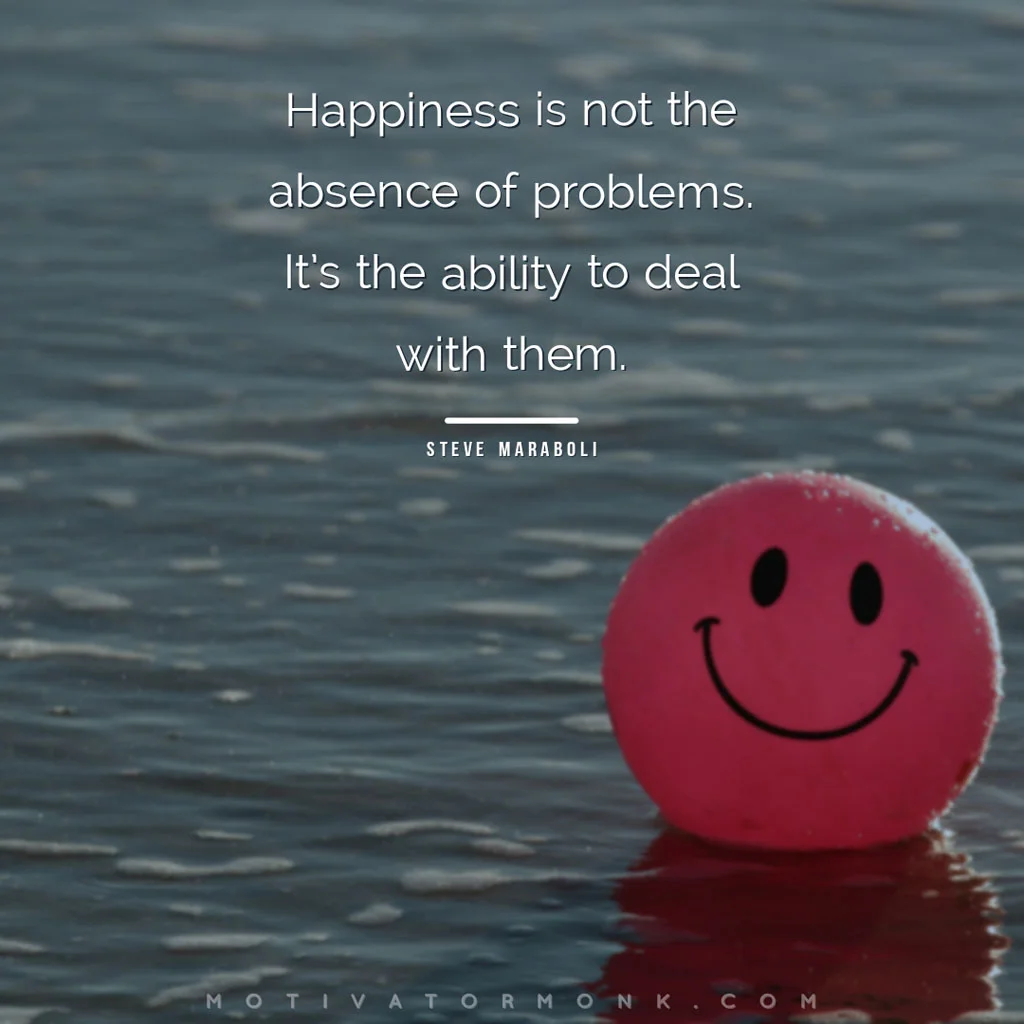 Never to suffer would never to have been blessed.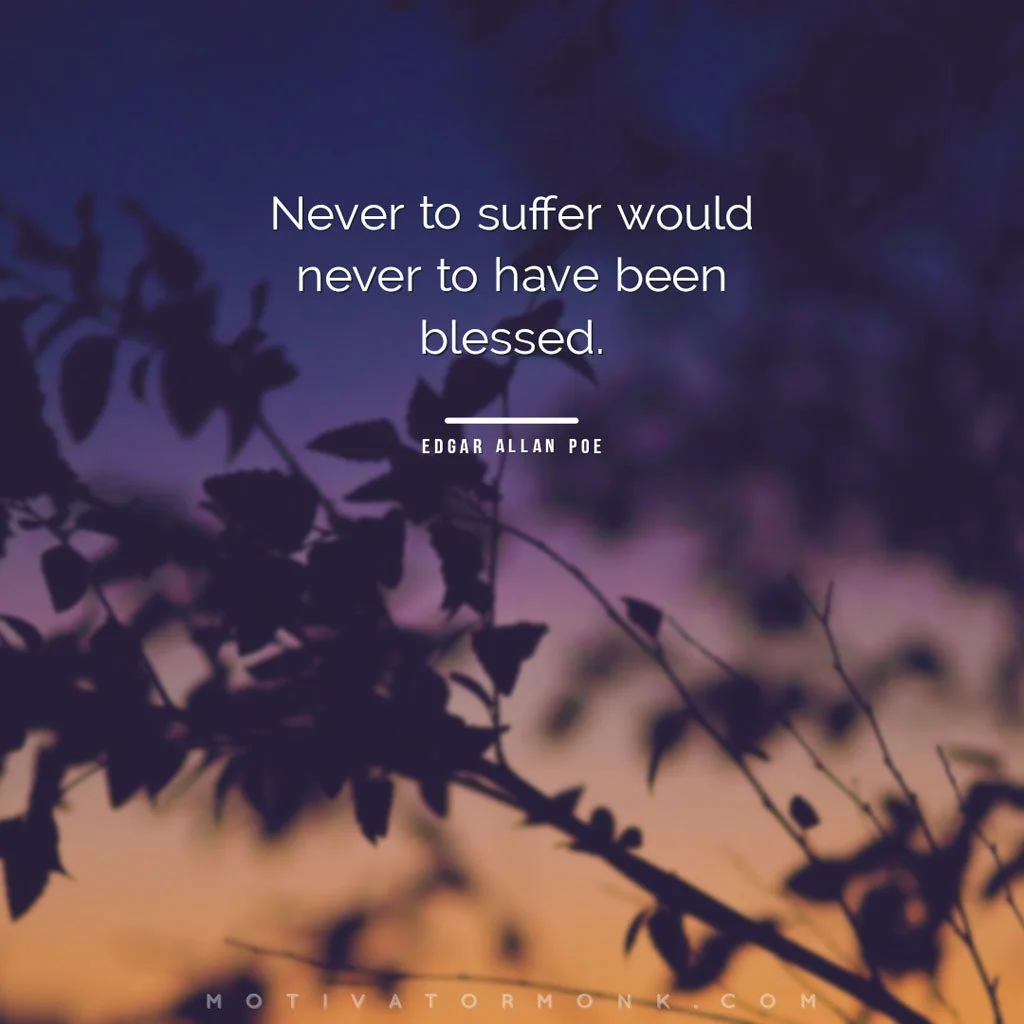 You can't be brave if you've only had wonderful things happen to you.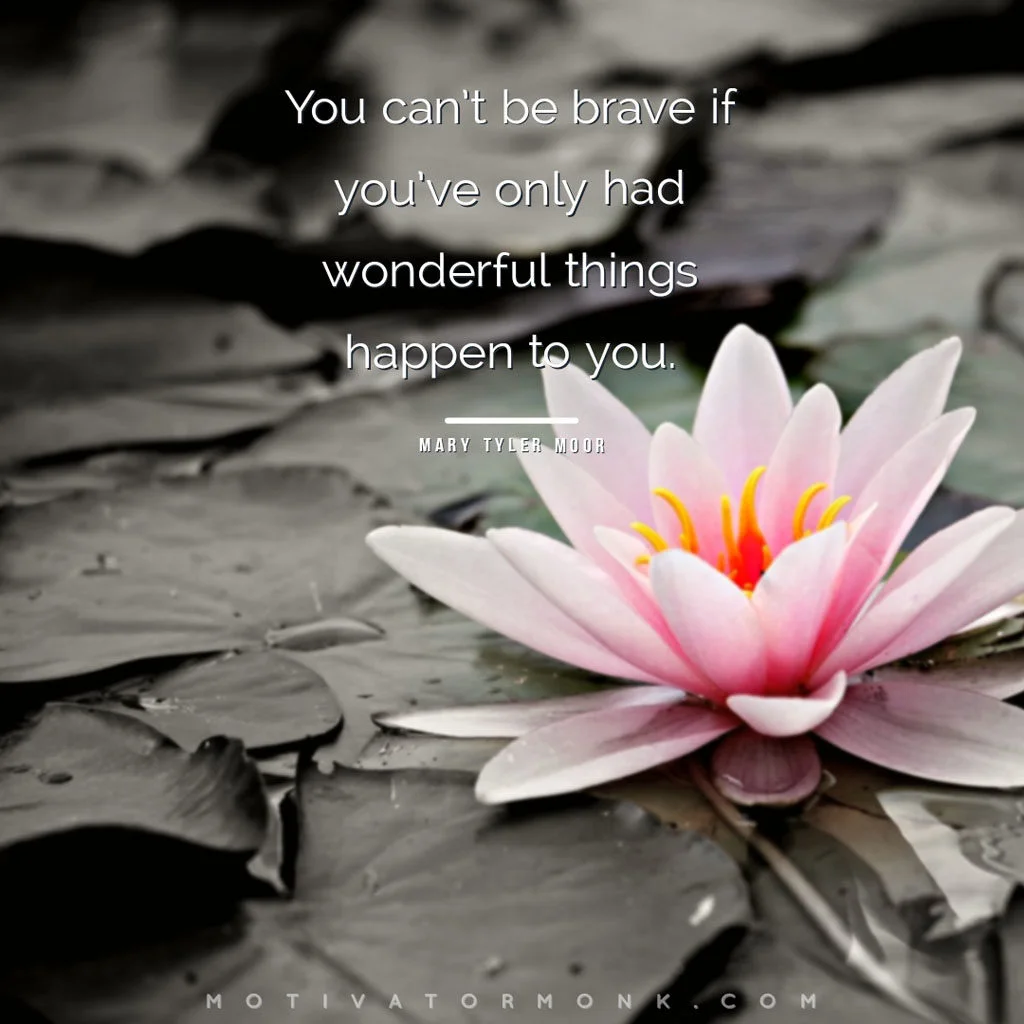 Challenge and adversity are meant to help you know who you are. Storms hit your weakness but unlock your true strength.
No. Don't give up hope just yet. It's the last thing to go. When you have lost hope, you have lost everything. And when you think all is lost, when all is dire and bleak, there is always hope.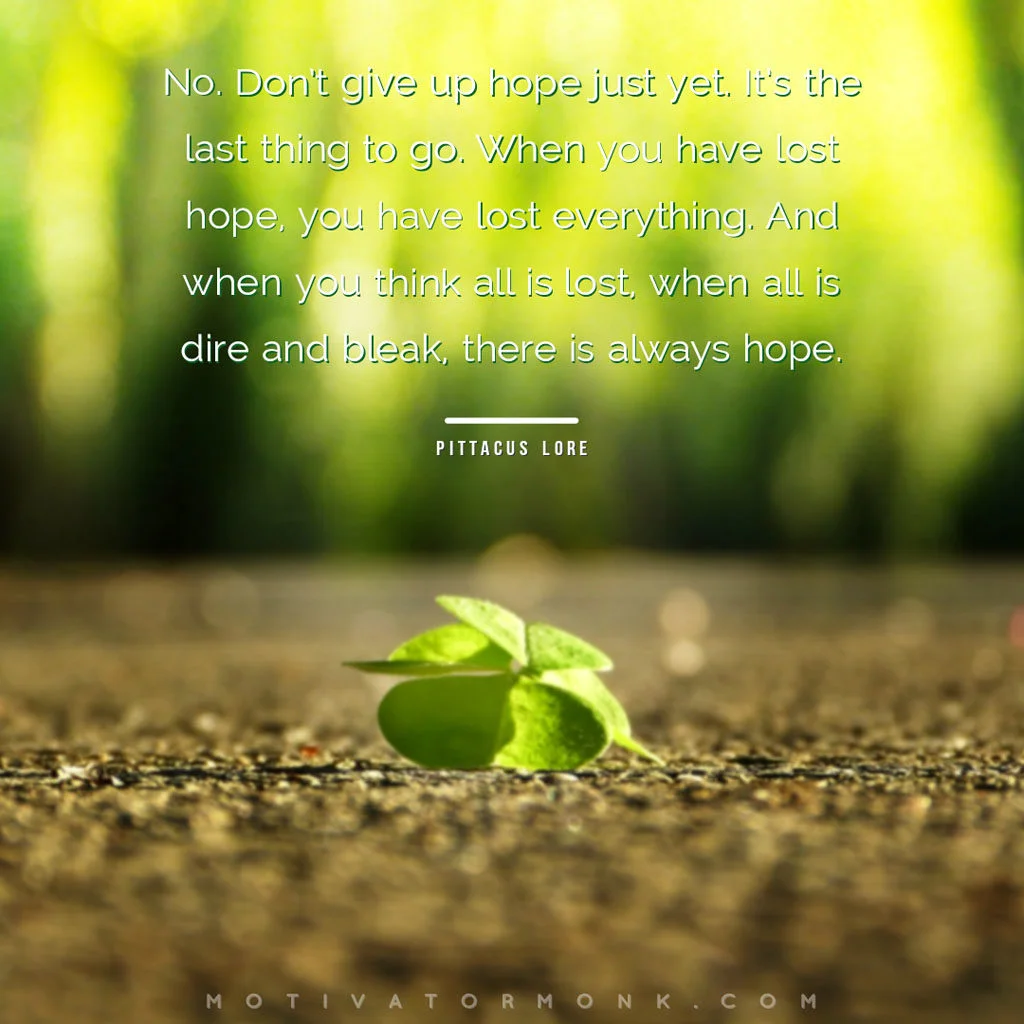 The more difficulties one has to encounter, within and without, the more significant and the higher in inspiration his life will be.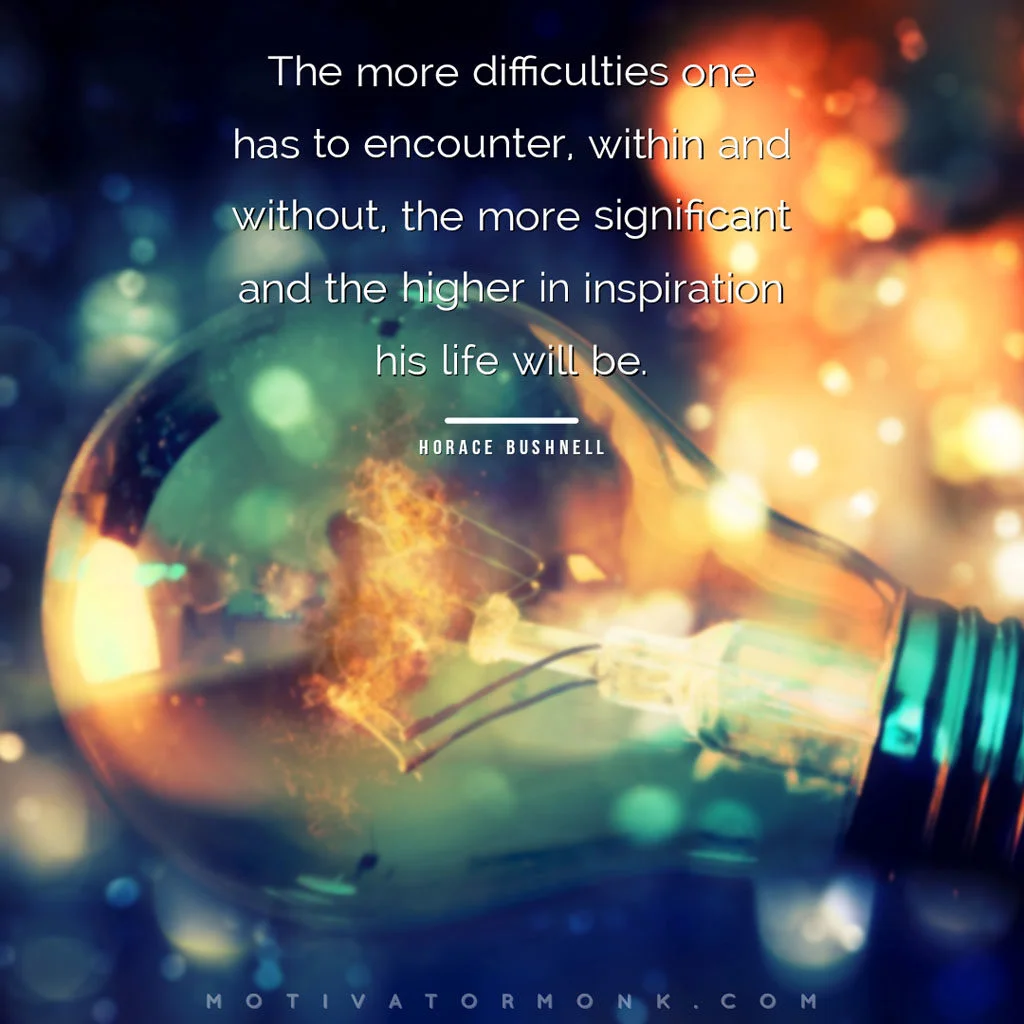 Optimism is a strategy for making a better future. Because unless you believe that the future can be better, you are unlikely to step up and take responsibility for making it so.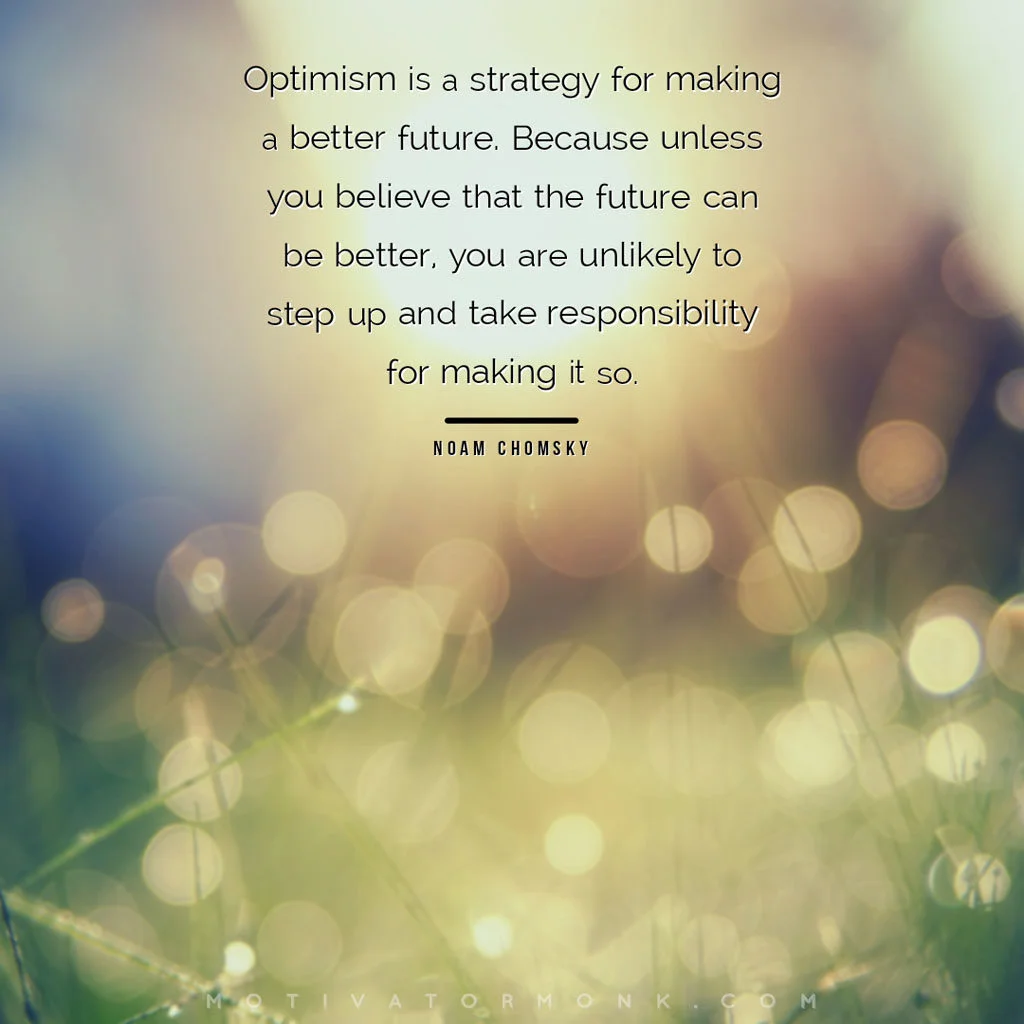 Recovery wishes
Keep Going. Your most challenging times often lead to the most significant moments of your life. Keep going. Challenging situations build strong people in the end.
Great things happen to those who don't stop believing, trying, learning, and being grateful.
If, for a while, the harder you try, the harder it gets, take heart. So it has been with the best people who ever lived.
Nobody is exempt from the trials of life. Still, everyone can always find something positive in everything, even in the worst of times.
It's never too late to change your life for the better. You don't have to take huge steps to change your life. Making even the most minor changes to your daily routine can make a big difference in your life.
Simple get well message
Keep going. Magic will happen.
Keep going. It is not as difficult as you feel it is. Don't give up.
Don't be pushed around by the fears in your mind. Be led by the dreams in your heart.
Even the darkest night will end, and the sun will rise.
When you're in a pinch and about to give up, remember what you've been fighting for.
When things are difficult, I try to remind myself that giving up won't improve the situation.
God will always give you more than you can bear alone because He doesn't want you to bear it without Him.
Wishing well messages
Whenever something bad happens, keep calm, take a few deep breaths and shift the focus to something positive.
I love those who can smile in trouble…
The harder you fall, the heavier your heart; the heavier your heart, the stronger you climb; the stronger you climb, the higher your pedestal.
Never give up hope. All things are working for your good. One day, you'll look back on everything you've been through and thank God for it.
Believe in Your Heart that you're meant to live a life full of passion, purpose, magic, and miracles.
Inspirational Get well soon Quotes
I don't know what lies ahead, but I want to keep going forever…
When you do whatever it takes, you pulsate the universe to shift in your favor.
Use the dark times to become the light.
The real glory is being knocked to your knees and then coming back. That's real glory. That's the essence of it.
Extraordinary people survive under the most terrible circumstances, and they become more remarkable because of it.
Funny get well soon quotes
Apparently, laughter is the best medicine. Good thing I'm hilarious!
Being in the hospital is no fun. Let's hope they kick you out of here pretty soon!
I read your prescription. It sounds like you're required to have a daily dose of your best friend's company. Lucky you!
I miss seeing you every day! Get better soon so that I'm not so lonely.
I hope you're not as contagious as your smile is! Keep smiling!
It's not the same without you around here. No one makes snacks, cleans, or takes the trash out! Get better soon. We miss you!
I always thought you were kind of invincible. Now I know that you're human too! Cheers to hoping you feel better soon!
We all miss you and can't wait for you to come home — even the dog!
Wishing you sleep, rest, and recovery. You'll have a hard time getting that at home, so take advantage of it!